Cenco Roofing
Englewood homeowners can extend the life of your roof by 6-12 years with a restorative repair
Our commitment to the local community is reflected through our high-quality roof repair services and gutter protection.
Save 50%
On labor & installation for a limited time
$99/mo
Low monthly payment, deferred interest, no interest, same as cash
1 Day
Most roof repairs are completed within 1 day
72 Points
Receive a free 72 point comprehensive roof inspection
I will definitely be calling Cenco if I ever need roof repairs again, Daniel was extremely polite, informative, and thorough on his explanation on what needed to be repaired, honest...
read more

Cenco Building Services was very responsive for our roof repair request. They were on-time and very professional. They also follow up immediately to make sure all things went well. Highly recommend.

I called Cenco to my house after seeing water spots on my ceiling. They were very polite explained the whole process on the phone when I schooled an appointment. The...
read more

The team at Cenco was extremely responsive to my request for a roof inspection on a new home. They performed a thorough and well documented inspection on the roof...
read more

Excellence to all of Colorado
Restorative roof repair services for Englewood, CO
As an experienced roofing company serving Englewood, Cenco Roofing understands the unique challenges that homeowners face when it comes to their roofs. We offer top-notch roof restore and repair services, specifically designed to address common issues like water leaks and missing shingles. While traditional asphalt roofs typically require replacement every 15-20 years, roof repairs can only provide a temporary fix that may not extend the roof's lifespan for more than 3 years. However, by choosing Cenco Roofing, homeowners can take advantage of our specialized Cenco Roof Restore process, which not only fixes the existing roof issue but also extends the roof's life by an impressive 6 to 12.5 years. This allows you to delay the cost of a full replacement and maximize the value of your current roof. With over 10 years of experience serving the Englewood area, Cenco Roofing is committed to providing peace of mind through our reliable and long-lasting roofing solutions.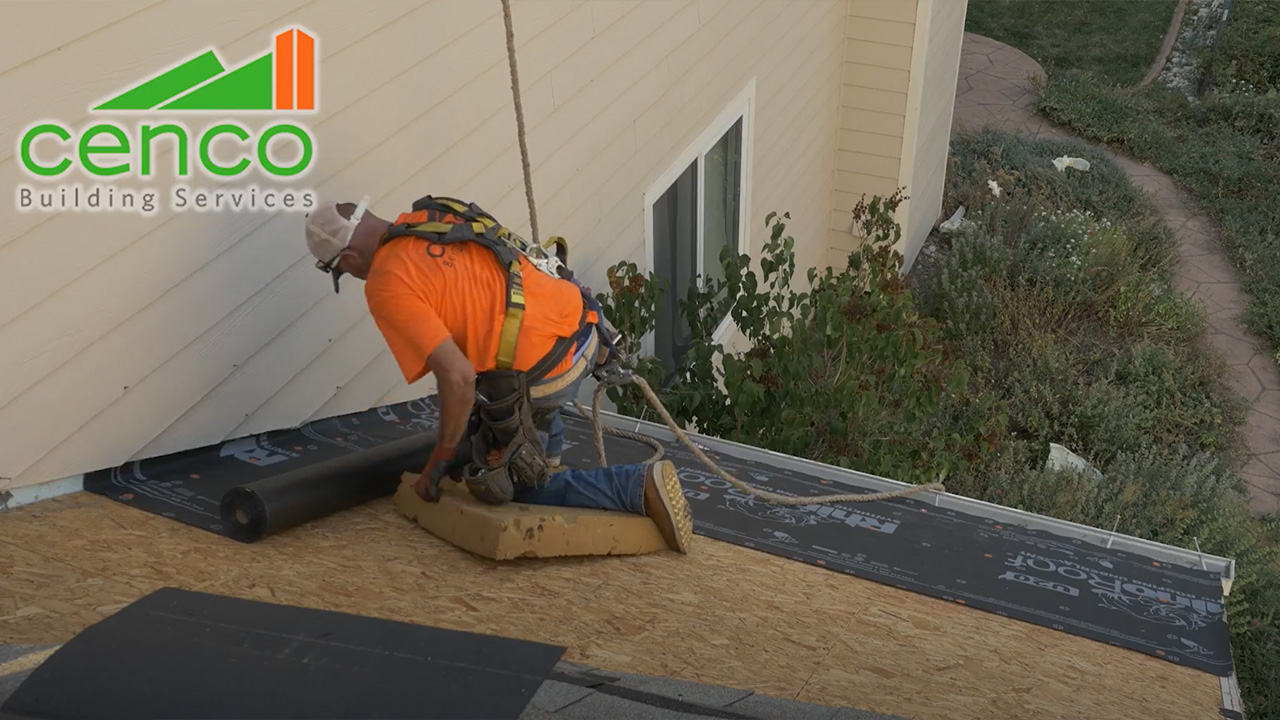 Cenco managed roof repair program
| | Traditional Roof Repair | |
| --- | --- | --- |
| Outcome | Temporary Fix. Results in patches | Permanent repair that integrates into existing roof system. Does NOT create additional leak risk |
| Warranty | Not warrantied | Fully warranted for 2 years against further leaks and damage |
| Repair Scope | Only addresses specific leak point | System repair methodology-follows and fixes the root problem |
| Crew consistency | Single repairs addressed by different crews-no consistency | Performed by a dedicated repair crew; no crew turn over between repairs |
| Price | Usuallv briced under the cost or insurance deductibles | Priced at time/materials-not related to insurance claim or deductibles |
| Follow Up | No repair follow up | Includes annual check-up by licensed roof tech of original leak and entire roof |
| Risks | High risk for customer as well as contractor. Potential to create additional weaknesses in remaining roof svstem | Lowers risk for customer of ongoing issues |
Cenco specializes in roof leak repair
Englewood roof leak repair & more
At Cenco Roofing, we understand that there are various reasons why a roof may require repair. That's why we specialize in addressing common issues promptly to prevent larger and costlier repairs or the need for a full roof replacement. Our experienced team has encountered it all, from water leaks and missing shingles to roofs failing home inspections, ice build-up or ice damming, and critters in the roof or attic. If your roof exhibits any of these common issues, don't hesitate to reach out to us for a free 72-point roof inspection. Our comprehensive inspection includes a house recon, thorough roof inspection, assessment of the attic, intake ventilation, exhaust vents, interior damage, and more. And with our roof restore service, you can rest easy knowing that it comes with a warranty to protect against further leaks and damage. Plus, we offer an annual check-up by a licensed roof technician to ensure the longevity and integrity of your roof. Trust Cenco Roofing for all your roof flashing repair needs.
Before & After Cenco Managed Roof Repair
Tree Damage Roof Repair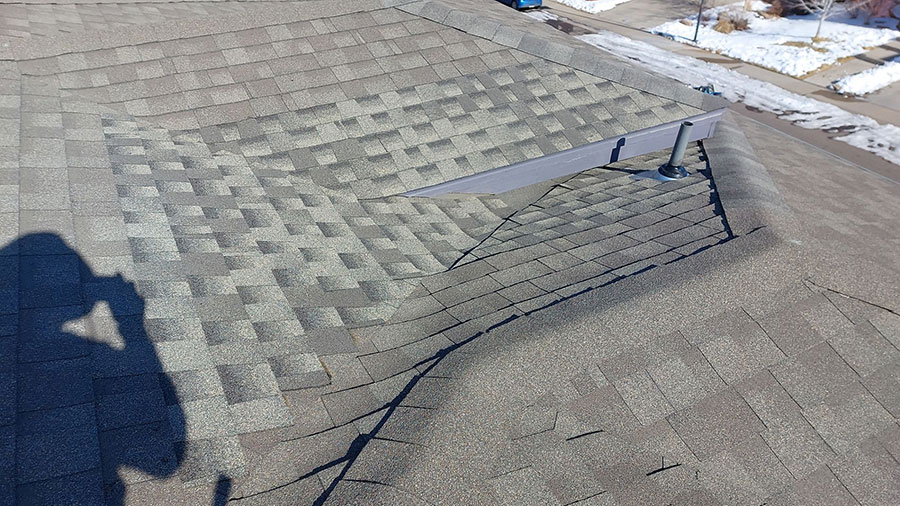 Emergency Roof Repair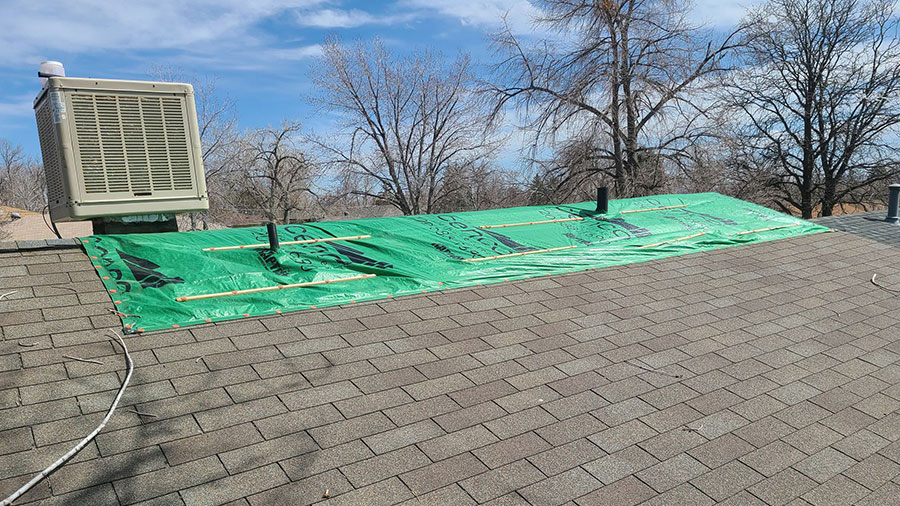 Help 24/7
Emergency roof repair services for Englewood
At Cenco Roofing, we understand that roofing emergencies can happen at the most inconvenient times. That's why we offer 24/7 emergency roof repair services in the Denver area. Whether it's the middle of the night or over the weekend, our team is ready to respond promptly. We make every effort to send out one of our skilled roof specialists to your home the same or next day. Our dedicated professionals will work with you to implement an immediate fix and develop a long-term solution for your roof. Rest assured, our roof specialists are professional, certified, licensed, and bonded. As NARCA ProCertified Installers, they possess extensive training and expertise. When it comes to emergency roof repairs, trust the few reputable roofers in Denver with this certification. Count on Cenco Roofing to quickly restore and repair your roof, providing you with peace of mind in any situation.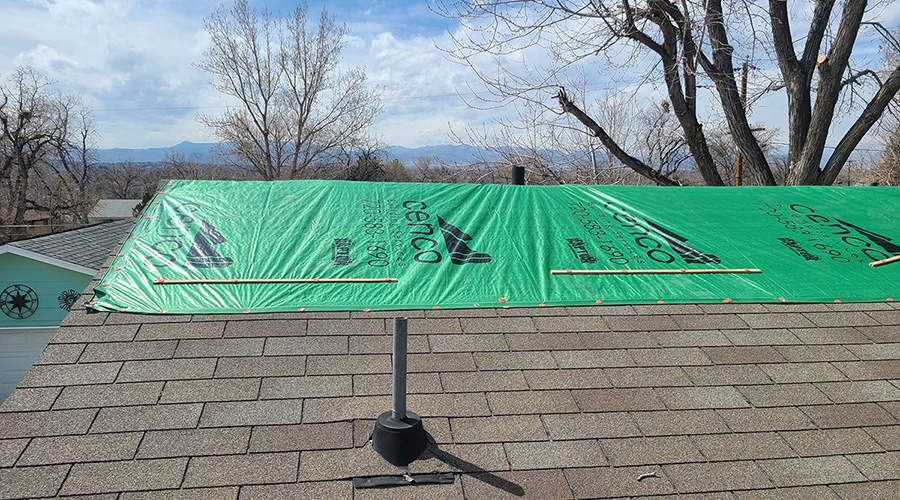 Quality construction with certified labor
National Roofing Contractors Association
ProCertified
Denver has over 7,000 roofing companies in the market. However, Cenco Roofing stands out as one of the few Denver-based companies employing NRCA-certified crews. Not only must every Cenco installer pass a written exam, but each must pass a hands-on master performance exam. This rigorous training process ensures that home and business owners receive assistance from experienced workers specializing in roof system installations.